HR Assistance
Each of our HRBPs is a highly trained professional with at least 15 years of professional industry experience – and is backed by the entire MRA team with over 2,000 years of combined experience!
Results-oriented HRBPs
Provide day-to-day HR support
Create and refine overall HR strategies
Implement employee development and performance management processes
Select, implement and streamline HR systems
Create or refine talent acquisition strategies
Drive change management processes to achieve organizational outcomes
Create effective communication plans to support organizational outcomes
Facilitate acquisition integration
Design and implement service delivery model
Lead HR functions during staff turnover or absences
Analyze wage and hour issues, resolving compliance gaps
Identify risks and improvement opportunities
Analyze sensitive HR issues, recommending appropriate response plans
Wherever or However You Need Us
Onsite or Remote
Full-Time or Part-Time
Project-Based or Ongoing
MRA has been such a wonderful resource for the HR team at the Medical College of Wisconsin. Our HRPB completed multiple assignments with us over the years, and each time, she quickly adapted to our dynamic organization and effectively partnered with our leaders to provide the highest level of support.
Katie Kassulke, HR Director, Medical College of Wisconsin
Qwinstar Case Study
Finding the Right Partner to Exit a PEO Successfully
Change is good and growth is even better! But what can an organization do when they have outgrown their PEO? Hear how Qwinstar, a service provider of check processing, cash automation, printing and high-speed document imaging equipment, found themselves in need of a different type of service provider.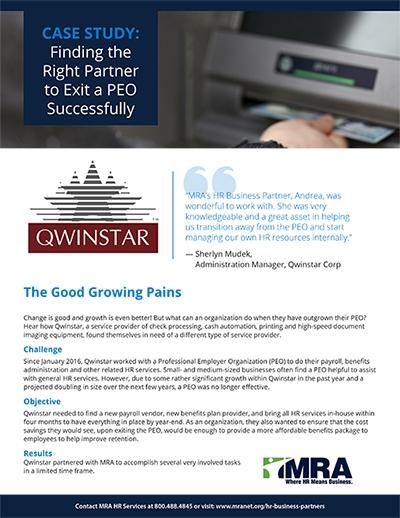 Meet Our Team
MRA's team of HR Business Partners are available for assignment anywhere throughout the Midwest.
Let's Talk!
To find out more about the services we offer, or to speak with a specialist about your specific needs, complete this form and one of our experts will reach out to you shortly.
Can't wait? Call us now at 800.488.4845.