Interviewing and Recruiting Just Got Easier
We'll help your company find the very best talent that aligns with your business needs. Through our position scoping process we get to know your company, management style, culture, and the types of candidates who will transition well into positions within your organization. Our collaborative approach ensures we fully understand the unique needs of every position you have to fill.
MRA's leading techniques and streamlined processes deliver qualified candidates at a fraction of the cost of traditional retained and contingent arrangements. Best of all, you select just the services you need. Our hourly à la carte services let you choose the components of the recruiting cycle you need. Most importantly, our team of recruitment professionals works with your organization and managers to provide regular feedback on the search.
MRA Recruiting Services:
Diversity, Equity, and Inclusion (DEI)
Compensation analysis
Job posting
Candidate sourcing
Social media recruiting
Phone screens
Behavioral-based interviewing
Assessments
Reference checking and background investigations
Recruiting Options – You've Got Choices!
Full life-cycle or à la carte recruitment assignments. You focus on what you'd like to manage, we handle the rest.
Strategic Recruitment Planning & Audits
Do your hiring timelines feel too long? Do you have excessive turnover? Are you attracting the right applicants? It may be time to look at your hiring process from a strategic perspective. Our experts provide an on-target review of your processes with recommendations for addressing any concerns.
Recruiting Technology
Depending on your specific recruiting situation and challenges, recruiting technologies can give you an invaluable competitive advantage. We help you choose the right job boards, utilize techniques to better leverage social media, and connect you with the most appropriate tools and resources.
Compliance
We've got your back when it comes to compliance. From compliant interviewing to Affirmative Action, reference checking to OFCCP, we have expertise in all areas of employment law, making sure your hiring practices remain sound.
High-tech Recruiting to Find High-quality Candidates
Technology has advanced the way we recruit making it significantly faster and easier--completely revolutionizing the recruiting process. MRA makes available the following high-tech tools:
Medela Case Study
Recruiting Success and $350K Savings
Medela was in need of recruiting assistance and support to find the right niche candidates. Together Medela and MRA have created a successful recruiting partnership providing value all around.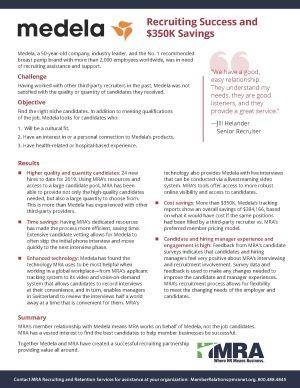 Candidate Sourcing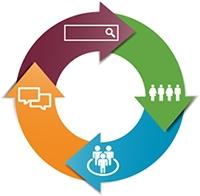 According to a recent LinkedIn survey, nearly 90% of respondents on LinkedIn were open to hearing about a new role if it was the right opportunity! These individuals are not actively looking at job boards, but would consider a conversation about a role of interest. As you outline the positions that you need to fill in the upcoming year, sourcing MUST be a part of your strategy so that you get the best talent in the market ... not just the best of who applied.
Sourcing candidates can be a very complex and time-consuming process. Building a pipeline of candidates is a solid strategy so that you have the right talent when you need them. MRA's candidate sourcing experts will provide you with the following:
List of passive candidates: Passive candidates are not actively looking for new employment opportunities but might be interested in the future.
List of qualified candidates: Qualified candidates had a discussion with an MRA recruiter and have expressed interest in a specific position.
Hats off to MRA's recruiting services. They just landed a key staff member for BizStarts.

Dan Steininger

President, BizStarts Milwaukee
Featured Training & Events
Talent Acquisition Roundtable
Roundtable
Recruiting & Hiring
Talent Management
Interviewing
Find a date
Let's Talk!
Pick the recruiting services you need. Get the talent you want. Contact us today to simplify your hiring.
Contact an Expert

Manager, Recruiting Services
To find out more about the services we offer, or to speak with a specialist about your specific needs, complete this form and one of our experts will reach out to you shortly.
Can't wait? Call us now at 800.488.4845.