Learn About MRA Surveys
MRA Surveys provide insights to help you compete, stay informed, and attract and maintain the talent you need. With respected marketplace high-quality data, our comprehensive reports can help you:
Benchmark one job or conduct an entire compensation review
Analyze job descriptions, industries, and different size organizations
Determine how your benefit package stands up compared to the competition
Develop the Talent Management Program and Talent Rewards Package you need
Review the latest in HR business trends to stay current
Known for local, regional, and national employee-matched, employer reported data--you can be confident your organization is making business decisions based on solid, high-quality, market data.
Participate in Surveys
Thank you for your interest and participation in MRA surveys! Click the "Not Started" or "In Process" link to participate in any of the open surveys. MRA member participants receive free reports.
Scheduled Surveys
Your organization matters. MRA counts on your participation in providing vital survey input. The more organizations that participate, the more reliable and representative the results! Member participants receive the final results for free.
Hot Topic Surveys
MRA's Hot Topic Surveys offer the latest pulse on pivotal issues and trends impacting businesses, by addressing areas of interest or concern for organizations. MRA is committed to providing key insights and takeaways for you to help you make more informed business decisions. Our surveys deliver aggregate data compiled into summarized format.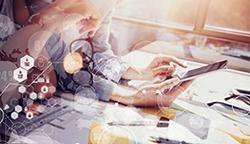 Earn Credits
Earn HRCI recertification credit and SHRM Professional Development Credit (PDC) through MRA survey participation.
Custom Surveys & Business Research
MRA offers custom research designed around your unique needs. Our services range from questionnaire consultation and programming to reports and in-person presentations. We're experts in scoping projects to meet your objectives, timing, and budget parameters by working with you closely from beginning to end to deliver actionable results.
MRA surveys are a key resource for us in our annual compensation planning. We value the breadth of positions and benchmarks, and the survey samples align well with our competitive labor market. The surveys are well organized for completion and for accessing the data.
Jennie Hawkins
Chief Administrative Director, Amherst H. Wilder Foundation
Let's Talk!

Surveys and Business Insights Lead
To find out more about the services we offer, or to speak with a specialist about your specific needs, complete this form and one of our experts will reach out to you shortly.
Can't wait? Call us now at 800.488.4845, ext. # 3508 or [email protected].