Get Your Employees Engaged
Fully engaged employees are a critical success factor and a major competitive advantage, but recent national studies show that only one in three employees is engaged with their company. It's startling to know that, even when you think you have the pulse of your workforce, the employees that you can least afford to lose may not be engaged.
Employee engagement impacts the bottom line. Companies with higher employee engagement have:
greater productivity
higher customer satisfaction
increased financial performance
decreased absenteeism
lower turnover
An employee engagement survey is a valuable tool for gathering information to make data-based decisions and understanding your employees' views of strengths and critical issues.
However, employees might be wary of company-conducted surveys. They may hesitate to reveal their true feelings or refuse to participate altogether. Conducting a confidential engagement survey through MRA provides employees with reassurance that their voices are heard without judgment or repercussions. In fact, the average response rate for companies using MRA's employee engagement survey is 92 percent, and you'll receive comprehensive comparative data, as well as targeted, actionable recommendations.
MRA Engagement Surveys provide:
Comparisons to national and regional benchmark data from similar companies.
Data breakouts and analysis by your employee groups and by levels of satisfaction and engagement.
Presentation for executive leaders with specific, actionable recommendations for next steps.
I really enjoyed working with Kristie Haase. She made everything easy and efficient. Her personality is warm and inviting, which made asking questions so much easier and less intimidating.
Desiree Carpenter, Human Resource Generalist
National Business Furniture
After the Employee Engagement Survey Toolkit
Increase Employee Engagement by Changing Company Culture
In order to stay competitive, an MRA member undertook rapid implementation of a new strategic direction to create a unified company concept and cultural identity.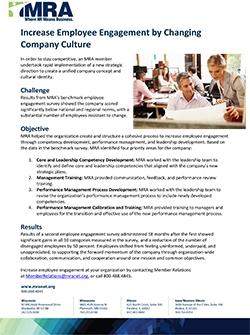 Featured Training & Events
Let's Talk!

Employee Engagement Survey Director
To find out more about the services we offer, or to speak with a specialist about your specific needs, complete this form and one of our experts will reach out to you shortly.
Can't wait? Call us now at 800.488.4845.