MRA's Tools & Expertise
Talent attraction, retention, and turnover can dramatically impact your bottom line. The competitiveness of your business is directly correlated to your talent strategy since great employees are an investment in your company's success.
Learn what attracts top performers to your organization, what motivates them to stay, and why they leave. MRA's expertise and tools are available to help your organization identify and prioritize key focus areas. Our data solutions give you the information needed to execute a plan that delivers organizational value.
We offer the following retention tools: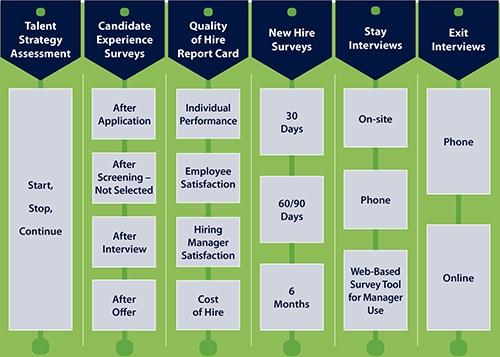 We're Here to Help
Using one-on-one interviews and online surveys, MRA's experts can assist you. We ask the right questions, interpret the data, and offer valuable insights to help you build an effective talent retention strategy. Unlock the knowledge to help attract and retain top talent and reduce the high cost of turnover.
MRA's Engagement Survey team provided professional, proactive, knowledgeable, and insightful guidance throughout the survey process.
Michele Vukovic, Corporate Central Credit Union
Featured Training & Events
HR Conference
Conferences & Events
HR Compliance
Engagement & Retention
Recruiting & Hiring
HR Metrics
Find a date
Let's Talk!
To find out more about the services we offer, or to speak with a specialist about your specific needs, complete this form and one of our experts will reach out to you shortly.
Can't wait? Call us now at 800.488.4845.