Read time: 3 mins
Just like many things, training has taken on a new life since the pandemic. As employees left brick and mortar offices and turned spare bedrooms and kitchen tables into work spaces, the need for remote learning became immediate. All companies needed to adapt or were threatened with not being able to keep up with the new business demands created by a remote world.
And so it was. The world pivoted, and so did learning formats. Companies still have the need for training, whether to enhance their workforce or to be compliant. Although changes to the training formats at MRA were planned, when the need became immediate so did our response. We teach change so we also had to take that on ourselves. We have learned ways to combine learning formats.
Learning options now include in-person, live online training, live webinars, and on-demand learning to facilitate learning that fits specific needs, with the option for full-day, half-day, and half-day remote sessions. Some prefer to be interactive but need to be remote so live online training is a great fit. Some appreciate the insight from subject matter experts but don't care to be interactive, so live webinars work better. Still others need the flexibility to learn when it works best for them, so on-demand learning is ideal. Providing different learning options has provided more opportunities for companies and individuals to continue training without compromising a preferred learning style.
The series Leadership Skills You Need Now! was created during the pandemic to provide a quick-hit, online training for managers. The 16 sessions are designed to help provide tools managers can apply as quickly as the challenges come at them and include topics that range from managing stress (for yourself and for your team) to surviving as a remote leader.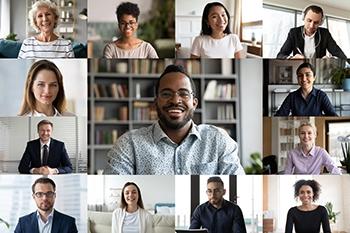 With an increase in remote learning and reliance on technology also comes the need to update materials and methods. People personally became more dependent on having everything at their fingertips and being connected to everything all the time. As a result, training also adapted. On-demand learning has become very popular, as well as the use of video clips to make the information relatable, fresh, and timely. Archived videos from 20 years ago just don't work when people have access to information posted five minutes ago.
Although many things can be done remotely, not everything is done best that way. There is still a strong need for in-person training. Some things require practice and the experience of understanding the exceptions. All MRA trainers have significant HR and training experience and have done and practiced what they are teaching. In-person classes allow the instructors to share personal failures and successes with participants and use that practical knowledge to facilitate learning. That is a big advantage to in-person learning that cannot be duplicated in other learning environments.
Training has also evolved to include more than just the participant and the time spent in the classroom. For those interested in shorter sessions, some classes offer pre-work that can be done prior to class time so the learning sessions can be more directed and participants can dive right into the topic. Other sessions offer a coach's guide. These guides enlist the participation of managers by providing questions and other practical application tools to use in the workplace. Managers are able to encourage employees to practice what they have learned and apply it in real-life situations, aiding in retention and building confidence.
As our members' needs change, MRA continues to adapt our learning options. Although more people prefer on-demand learning than before the pandemic, many still prefer the in-person experience. There is no one-size-fits-all approach. You don't become an expert with quick knowledge, so the key is in finding a balance to make class time more efficient and effective.
Of course, specialized sessions can also be created to fit more specific needs of the company. For more information about the learning opportunities offered by MRA, contact Andy Marris, Learning & Development Instructor, at [email protected] or 262.696.3409.