Read time: 2 mins
Recent Survey data shows full-time onsite workers and those making their way back to the office are split down the middle.
Recently MRA's survey pros asked managers about remote employees and what that looks like for them. The new data is all about transitioning.
As the responses spell out, 50 percent of workers are already back onsite full-time. But that leaves 50 percent who are currently transitioning or are just talking about getting back to the office. Of the other 50 percent:
Thirty-one percent of people are working on a hybrid basis.
Sixteen percent are totally remote but are planning a move back.
Three percent are working remotely indefinitely.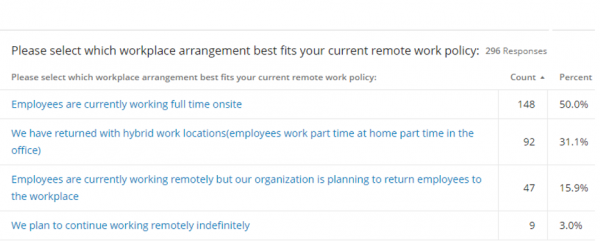 Want to see more survey data to discover if your organization is in the majority, the minority, or someplace in the middle? Check out all the survey possibilities MRA has available. With all the credible, high-quality data, MRA's comprehensive survey reports or select cuts of data give you the metrics you need for success. The Survey Team can help you:
Benchmark one job or department.
Conduct a total compensation review.
Analyze job descriptions, industries, and make comparisons based on the size of your organization.
Determine how your benefit package compares to the competition.
Provide data to help you develop a specific Talent Management Program and Talent Rewards Package for your company.
Review the latest in HR business trends to stay current.
Want to talk with a person about surveys? Contact one of our survey experts for a free consultation at 800.488.4845, or complete an online request.