Read time: 3 mins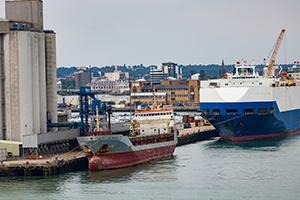 Are the cargo ships in Southern California's harbor telling us it's time for simpler times?
The news has recently been full of Grinch-like reporters stating that holiday gifts, particularly toys, may be in short supply this year. Well pretty much anything coming from Asia is in short supply. It is a complicated series of events, yes, partly due to our ongoing nemesis, COVID-19. As we adjusted to staying home more, the demand for goods used at home--including items used for entertaining ourselves and our children--increased. At the time, retailers were happy to have renewed interest in their products, but are now overwhelmed with the demand that has not slowed.
We hear almost daily of the growing number of huge cargo ships drifting or anchored outside of the ports of Long Beach and Los Angeles waiting to unload the cargo. Even when the ships are able to berth and unload, a new series of challenges await the movement of that cargo to its final destination. Those two ports account for 40% of the incoming imports in the country, so when the influx of product is paired with a lack of workers further down the supply chain--the truckers and warehouse workers who are needed to handle freight once it leaves the ports—a huge bottleneck is created. These delays may jeopardize whether parents, grandparents, aunts, uncles, and other family members can buy toys in time to wrap and place under the tree.
To add to the delay dilemma, the cost of shipping those giant containers has risen sharply (in some cases 500 percent), labor costs have drastically increased, and there is a shortage of raw materials, all causing prices to rise. These factors, when combined with potential scarcity could make the holiday shopping a bit challenging.
This is all making my head spin and wondering if it isn't time to return to a simpler way of doing things. Looking back, I don't remember the gifts I just had to have as a child, but I do remember the magical times with my family. Returning from a tour of the holiday lights to hear my mother explain away the huge bandage as covering a cut she received from Santa's belt while holding onto him, in an attempt to get him to stay until we returned. The smell of holiday treats baking. And the joy of being together as a family. None of that relied on imported toys, logistics efficiencies, nor was it impacted by a labor shortage. Businesses cannot go without supplies or resources, but is there a way to do some things differently? Could this be an opportunity to evaluate systems, processes, and the reason for doing things a certain way? The world is definitely much different now, but I can't help but wonder if there is opportunity to look at things from a different view and simplify some things that have become complicated.