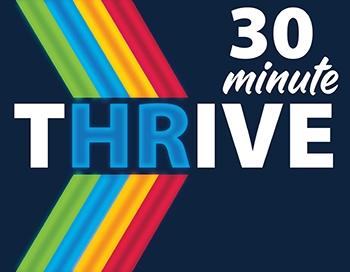 30 minute THRIVE Podcast
It's hard to constantly stay on top of the ever-changing business environment. 30 minute THRIVE is here to solve your challenges by being your confident go-to for anything and everything HR. Each series will contain episodes with subject matter experts on relevant, shocking, and essential HR news and topics. It's time for you to get connected. Are you ready to THRIVE?
Signup for Podcast Updates
Let's Talk!
To find out more about the services we offer, or to speak with a specialist about your specific needs, reach out and one of our experts will connect with you shortly.
Can't wait? Call us now at 800.488.4845.