"Frontline Leaders" may be called group or team leaders, seniors, leads, coordinators, leaders of work groups—or may simply be our "go to" people. These employees often do the work while simultaneously providing leadership direction and supervision to their work group.
This series is excellent for individuals who are being prepared for future leadership roles.
This introductory leadership series teaches the important principles of motivation, interpersonal communication, employee training, influencing others to achieve results, meeting organizational objectives, and resolving conflict. Using a combination of discussion, case study, and skill practice, participants are prepared to be more productive within their organization by developing their leadership skills.
For new supervisors and managers who have the responsibility to hire, fire, promote, and evaluate performance, the Principles of Leadership Excellence Series is strongly recommended.
When you complete the entire series, you'll receive a certificate recognizing your achievement.
Courses in this series:
Who Should Attend:
This series is valuable for both new and experienced frontline leaders from office, manufacturing, and service organizations. These individuals are not officially "management" employees, but provide leadership, direction, or guidance to a work group without the power to hire, fire, promote, or conduct performance reviews.
Frontline Leadership's instructors were remarkable and the skills I learned in those five weeks have already made an impact. Being 'Fair, Firm and Friendly' is paying off. Thank you so much!
Miguel Hinrichs, Production Supervisor, Saris Cycling Group
Coaching Guide for Managers: $75
To help get the most out of this training experience for your employee, MRA offers a Manager Coaching Guide. This premier tool was designed to maximize your leaders' productivity and help their learning "stick!" The coaching guide follows the classes in the series and includes an overview of what was covered in the class as well as some coaching questions for discussion. We also offer a brief video that explains the best use of the guide. To order, contact Registrations at [email protected] or 800.488.4845.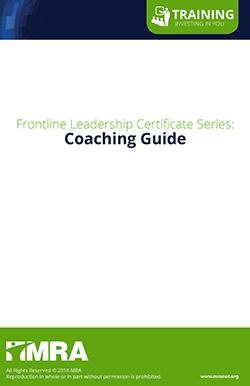 Let's Talk!
To find out more about the services we offer, or to speak with a specialist about your specific needs, complete this form and one of our experts will reach out to you shortly.
Can't wait? Call us now at 800.488.4845.