Read time: 3 mins
What do you do when the coronavirus forces you to stop production at your facility and lay off 300 of your employees? You develop something that helps with the pandemic, enabling all your staff to come back to work and manufacture it. It's a textbook win-win.
That is exactly what MRA member Kruger Family Industries (KFI) did. The organization owns two manufacturing companies under KFI—Penda and TriEnda—both in Portage, WI. Penda is a leading provider of value-added accessories for vehicles, including bed, wall, and wheel-well liners. TriEnda specializes in packaging solutions that ensure products arrive at their destination without damage. During the pandemic, TriEnda was deemed essential, Penda was not.
What to Do?
Both companies came together as one work family and put pen to paper to find a solution. Employees from engineering, production, marketing, and sales worked around the clock for days trying to develop something to help with COVID-19 and get their Penda people back on the job. They succeeded. The team came up with an Emergency and Disaster Relief Bed for hospitals running out of space.
"Going from product concept to production would normally take months, but we were able to pull it together in just weeks," said Sarena Krueger, Director of Marketing at KFI.
The entire base of the bed is made of molded thermo-formed plastic manufactured in Portage. The company partners with suppliers that source the metal side rails and the IV bags to complete the bed.
The plant was able to make over 14,000 beds each week, and by doing so they filled their orders and made additional inventory for when needed. The extra beds are stored in KFI's 300,000 square foot on-site warehouse.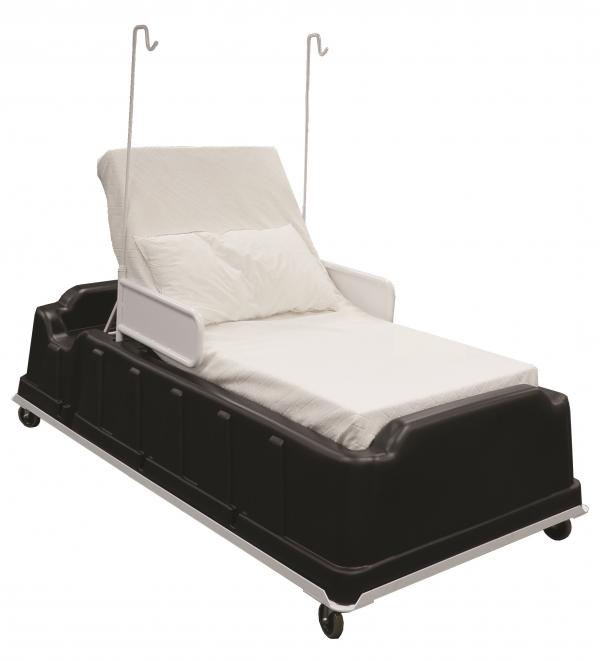 Delivering Hope
The company's first large bed order was fulfilled for the Boston Hope Medical Station housed inside the Boston Convention and Exhibition Center. Dan Arkins, Senior Director of Development at the medical station said, "We can't believe how easy the beds were to assemble, and feedback from the clinical staff has been very positive."
Hometown hospital Divine Savior Healthcare of Portage, WI, ordered beds early in the pandemic's grasp so they could be ready if and when they were needed.
Moving forward, KFI is able to quickly switch seamlessly from normal production to production of the beds so they can help in future times of need.
"There are always situations, unfortunately, where these beds will be ideal solutions, like temporary housing after natural disasters or homeless shelters. They provide comfort and a place for much needed rest in stressful situations," said Krueger.
"Our entire KFI team is very proud of these beds. They were created so, as a company, we could do our part during COVID-19 for people in need across the country, as well as keep food on the table for all our employees here at home."

 

 
For more information on the Emergency and Disaster Relief Bed, contact [email protected], call 608-742-8982 or visit trienda.com.
The Emergency and Disaster Relief Bed has many benefits:
It's easy to assemble, no tools are needed.

The bed accommodates all different sizes of patients with an 800-pound capacity.

The plastic base is easy to clean and sanitize.

Sturdy wheels with locks make the beds easy to move.

Heavy-duty powder-coated steel frames add durability.

Beds can be nested and stacked to save space when not in use and reused in the future.