Read time: 8 mins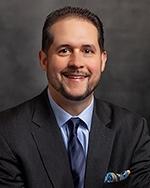 Andrés Gonzalez has been a leader in diversity, equity, and inclusion for more than15 years. While working for the Cleveland Clinic Health System in Ohio, he was introduced to health care after being awarded a grant that allowed him to train women as nursing assistants, positioning them for advancement opportunities afterward. He facilitated the program between two area hospitals, building relationships with them and the community. Baystate Health System in Springfield, Massachusetts, provided the opportunity for him to use his talents at the executive level before returning to the Midwest to lead the integration of diversity initiatives at Froedtert Health and grow community relationships as the Vice President and Chief Diversity Officer. He is also a key driver of the Metropolitan Milwaukee Chamber of Commerce's Region of Choice initiative, which is committed to making Milwaukee's workplaces more inclusive.
Froedtert Health's EDI efforts have helped on many levels, from getting out into the community to hear what people have to say, to providing learning and employment opportunities to minority, veteran, disabled, and LGBTQA (the letter A represents ally) members of those communities.
At Froedtert Health, we refer to our efforts as EDI, placing the initial emphasis on equity. Our end goal is to create an equitable staff and patient experience. Diversity and inclusion are foundational and precursors to our equity efforts.

 

 
Q: Is there a particular event that led to your interest in becoming a leader in EDI?
A: One of my first experiences was when my family moved to the states from Puerto Rico. As most immigrants do, I experienced issues, such as language barriers. I remember my mother becoming ill and the problems she had navigating through the health care system. Back then, there were no mandates for facilities to provide interpreters, so there were struggles for people who don't speak or understand English well. I would go with my mother to appointments and saw how humbling and painful it was for her to share intimate and personal things—through me, her son—so the doctors could provide the care she needed. That kind of experience stays with a person. As a result, I now lead the team of interpreters that provide culturally and linguistically equitable care so others don't have to have the same experience my mother did.
Q: Is there a suggested building block that companies can use to launch a successful EDI culture? Is a strong desire to build that culture enough?
A: I've had this conversation with many people lately. My advice is to look at this work through an internal versus external lens approach. Therefore, you need to focus on internally facing efforts—to "get your house in order"—and build from there. Once you have identified your building block(s) you can stand behind the things you provide staff. Consider who makes up your workforce and the employee experience, making sure you understand the DNA of your culture. Those things will help position you for success and position your company to provide an equitable experience while addressing the barriers confronted by your community and customers. One of the biggest mistakes organizations make is trying to take on everything at once. Take it one step at a time. You cannot boil the ocean.
Q: How do you feel community involvement aids in building EDI programs?
A: It is imperative, especially after the last two years with COVID-19. Those who have built inroads with the community have a great advantage. The pandemic uncovered more than just a virus—it uncovered a secondary pandemic of economic and community injustice that we couldn't sweep under the rug anymore, including the toll that everyone has endured from a mental health perspective. Community involvement has been one of the cornerstones to combatting that.
At Froedtert Health, we come with humility in our conversations. First, we help bring awareness of community problems to others. Then, we sit with the community to have conversations, share experiences, and understand their greatest needs. Organizations that come into the conversation as a source of strength rather than trying to fix a deficit find the discussion is more productive. We started with the African American/Black community, then began working with the Hispanic/ LatinX community. For us, it has been imperative to invite them to the table. We created cultural and linguistic public service announcements to make sure everyone can understand the message and effort. This gained the support of leaders in the community, who responded by helping to promote the importance of vaccination.
Q: Froedtert Health uses Business Resource Groups (BRG) to support EDI growth and involvement. Can you explain more about what those are and how they contribute?
A: These are groups based on dimensions of diversity—Black, LatinX, Military/Veterans, LGBTQA, and Women in Leadership. When we looked at them initially, we looked internally.
BRGs have been instrumental in partnering with HR and others by helping to build work plans to improve recruitment efforts, retention, leadership diversity, and provide insights to internal and external patient and customer care. The BRG members help with community communications because they are part of the community and many of them are also patients—and because they have a good pulse of what is needed at the community level. They bring multiple views, partner with staff at all levels, and wear many different hats. They are truly culture ambassadors and continue to strengthen our culture with dignity and respect.
Q: How can companies lean on EDI programs during times of social unrest, such as with the George Floyd and Jacob Blake incidents, or other high-profile situations?
A: I would say our watershed moment in Milwaukee happened with Sylville Smith in 2016, a black man who was shot by a black police officer. The story made the local front page and national pages with three days of unrest, protesting, and riots. As a country we still wrestle with injustice and racism.
At Froedtert Health, we recognize that is important. What I appreciate about Cathy Jacobson, President and Chief Executive Officer of Froedtert Health, is that she treats EDI as a business imperative. She is instrumental in acknowledging its importance and encourages us to go into the community to ask questions so we can increase awareness and understanding of our community needs. Eric Conley, Executive Vice President of Froedtert Health and President of Froedtert Hospital, is also a major supporter. With their support, we launched Community Conversations, where we talk with diverse group leaders about what Froedtert Health is doing, and listen for feedback to see if we are on the right track. We ask and encourage the groups to be honest and share their thoughts, so we understand. It has built trust and partnerships, and it has been great to see how we are working together to co-create strategies.
In order to partner with communities, you need to earn your stripes and show you care through engagement and authentic partnership. There must be give-and-take to become equal partners. I have not experienced that in other areas or jobs. There is real authenticity with the program at Froedtert Health.
Q: Diversity reaches to many areas of the company, including supplier diversity. Can you tell us what that entails?
A: Yes, this also aligns with the Metro Milwaukee Area Chamber of Commerce (MMAC) Region of Choice pledge. This is a commitment, with employers, to increase leadership diversity by 25 percent and workforce diversity by 15 percent in the Milwaukee area by 2025, but also focuses on creating a community and economic vitality. Not only are we employers, but we also have the ability to contribute to the economy of our community.
Froedtert Health has had supply chain diversity in place for about eight years. We hold ourselves accountable from a goods perspective but also include building and construction. This year, we have $19 million to invest in women, veterans, and other minority companies. We have $25 million, or 25 percent, of our construction budget earmarked for investments with women- and minority-owned business enterprises.
That happens through partnerships that we have formed with the chambers of commerce in each community group. The chambers vet the providers and Froedtert Health invests in them. We also help build mentor/protégé programs once the contracts are won and completed successfully. The contractors who have had the community engage with them engage right back and reinvest in the community. This helps to build talent, and from a workforce standpoint it will build the future.
Q: What do you feel is key for employers that have established EDI programs and want to keep them strong?
A: First, make sure you are working with your CEO and senior leadership to have buy-in. Understand what keeps them up at night and keep them in lock step to see what can be built to coordinate efforts. That way, as key initiatives are unveiled, everyone will understand how they are involved and connected. EDI efforts have become a key part of Froedtert Health's DNA, and are part of how we think, behave, and act as an organization. That is the power of aligning leadership with your goals.
It is also important to use metrics to help keep you moving forward and track to see if you are accomplishing what you have set out to. Have efforts that align and make sure they really matter. We have a balanced scorecard that we refer to often so we can tell at any given time where we stand with our goals. It has changed and shifted our ability to stay on task.
Also, create room around the table. Internally, make sure everyone can have skin in the game, but also invite the community to help, inform, and guide strategies and tactics. This can be done at any stage of your program, whether just starting or well into the journey.
Acknowledge how far you've come and that there is still work to be done but celebrate what you have accomplished at the same time. Be sure to celebrate wins because recognition and reward lead to success.